Events
Oct 15, 8:00 am – Oct 17, 5:00 pm
Nov 28, 8:00 am – Nov 30, 5:00 pm
Feb 28, 12:00 pm – Mar 3, 4:00 pm
Link To Our National Anthem
COPC is a not for profit ministry that exists for the soul purpose of serving and supporting our First Responders, Law Enforcement, Fire, Medics, Dispatch - any calling that runs into what everyone else runs from! We serve our men and women with the focus to assist them and while we are doing that our chaplains serve and support the communities of Central Oregon gladly. We walk in the trench with our First Responders.

I am a Veteran and have served my country in a war that some reduced to a conflict.

It seems to me that it becomes real easy for folks to forget the price that is paid when our First Responders and Veterans try and do the right thing and stand in the gap for a member of the community who they don't even know.

I was sent a link to the background info for our National Anthem. I invite you to listen to the story and you won't ever listen to our National Anthem the same again. Pray for our First Responders and our Vets as they deserve this moment of prayer. It's the least we can do today!

Thank You for your Service and Support. First Responders we love you.

Thank You Vets and First Responders for your willingness to make things right and stand in the gap for the community.

Just A Chaplain

Link to our National Anthem: https://www.youtube.com/embed/YaxGNQE5ZLA
Notes from Chaplain Jim

First - thank you for the very kind and continued support for COPC even through a hot and dry July - now August!

I have been watching our First responders in 95-105 degree days - heavy dark uniforms - in the heat of the day and for some the heat of the moment! Serving and supporting our communities with honor and integrity.

Our Chaplains continue to walk alongside them and recently for some of the most difficult calls. Weather it is an officer involved shooting event, drowning of a 2 year old or a welfare check that evolves into a death investigation our first responders are always serving and supporting at the highest level. They stay cool when the heat is on for sure.

August brings plenty of opportunity to be active with family in friends. Please be safe and as my Mom tells me all the time, be careful where you walk and what you step on - in!

Have a safe and relaxing August.
Blessings - pj
2018 Golf Tournament
Central Oregon Public Safety Chaplaincy
2018 Golf Tournament
Friday, August 3, 2018
Shotgun start at 8:00 AM; Lunch served at 1:00 PM
Entry: $125.00 per person/ $500.00 per foursome

Click here to download the flyer for this event

Click here to download the Registration & Sponsor form for this event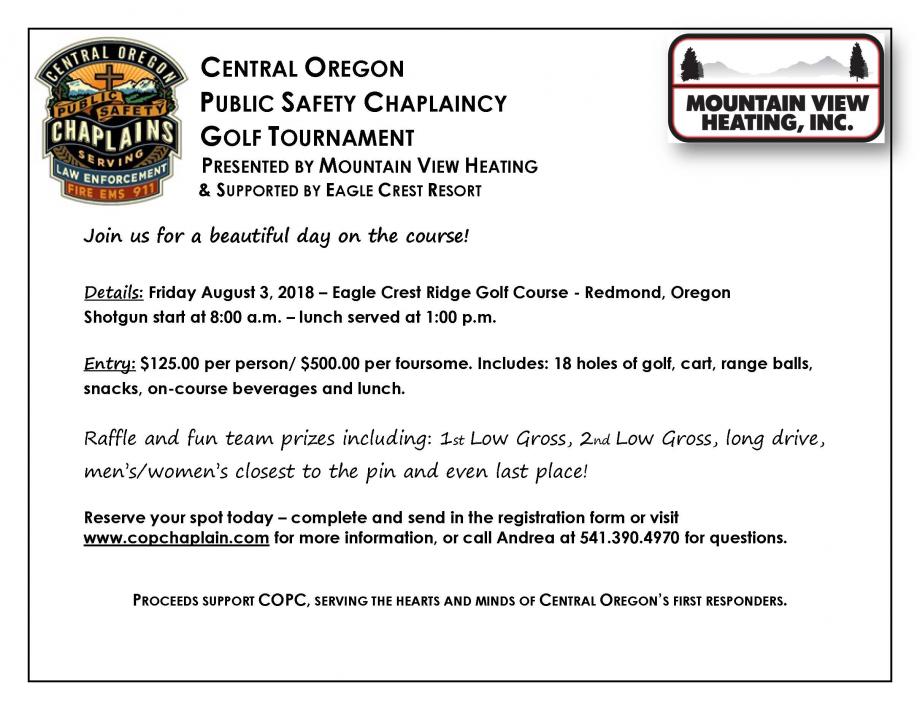 2018 Golf Tournament Sponsors & Teams
2018 COPC Golf Tournament Sponsors & Teams Logos
Click on image to view gallery
Contact Us
Central Oregon Public Safety Chaplaincy
PO Box 1898
Redmond, OR 97756