Events
Oct 15, 8:00 am – Oct 17, 5:00 pm
Nov 28, 8:00 am – Nov 30, 5:00 pm
Feb 28, 12:00 pm – Mar 3, 4:00 pm
Link To Our National Anthem
COPC is a not for profit ministry that exists for the soul purpose of serving and supporting our First Responders, Law Enforcement, Fire, Medics, Dispatch - any calling that runs into what everyone else runs from! We serve our men and women with the focus to assist them and while we are doing that our chaplains serve and support the communities of Central Oregon gladly. We walk in the trench with our First Responders.

I am a Veteran and have served my country in a war that some reduced to a conflict.

It seems to me that it becomes real easy for folks to forget the price that is paid when our First Responders and Veterans try and do the right thing and stand in the gap for a member of the community who they don't even know.

I was sent a link to the background info for our National Anthem. I invite you to listen to the story and you won't ever listen to our National Anthem the same again. Pray for our First Responders and our Vets as they deserve this moment of prayer. It's the least we can do today!

Thank You for your Service and Support. First Responders we love you.

Thank You Vets and First Responders for your willingness to make things right and stand in the gap for the community.

Just A Chaplain

Link to our National Anthem: https://www.youtube.com/embed/YaxGNQE5ZLA
Notes from Chaplain Jim
SupportIng One Another

September is here and for many of you this means that the new school year has started for kids.

There are many things that are new to kids and parents. Each of us have different things that cause stress in our lives. Whether you are a kid or an adult. For many this means a new school, new friends, new classes, new teachers, and etc.

Kids come to parents to get guidance and help. We give them a big hug, give them affirmation, encouraging them, provide for them many tangible ways that help them to succeed. During their childhood we create a bond that hopefully shows them what it means to be family. Family is vital and shouldn't be taken for granted. Sometimes it is hard to love family when you hurt. Where do our kids go to get support? They get them from Parents, family, and friends. We support our kids by helping them through life.

Life can be tough for parents and kids. Jobs are stressful, finances can be stressful, marriage can be stressful, and family can be stressful. How do we cope with them individually or in multiples of two or more? It at times can be overwhelming and hard to handle. Where can we go to get help? Adults need each other. Adults need to encourage each other, support each other when times are tough. Life is not easy but we "do life" because we love each other.

How do you support each other when times are tough? Do you have a friend who you can confide in when you need help? Maybe you have a traumatic event and you need someone to help get you through the difficult time. This is why it is so important to support all around you. Don't wait for a traumatic event, start building relationships that will be there through the good times and the tough times.

Support is someone who puts bandaids on cuts when you are bleeding. Care is someone who knows you are hurting and gives you a hug. Love is when someone supports you unconditionally. It takes all of these combined to get us through life as we know it. Most importantly, where we are spiritually can make an even bigger impact on us. Reach out and help each other! Each of us has been impacted by someone else and so pass that on to someone else. Use less words and more actions. This will truly show what support really is and makes us effective once again. Resilience is key to being successful personally and professionally. Watch out for each other!
2018 Golf Tournament
Central Oregon Public Safety Chaplaincy
2018 Golf Tournament
Friday, August 3, 2018
Shotgun start at 8:00 AM; Lunch served at 1:00 PM
Entry: $125.00 per person/ $500.00 per foursome

Click here to download the flyer for this event

Click here to download the Registration & Sponsor form for this event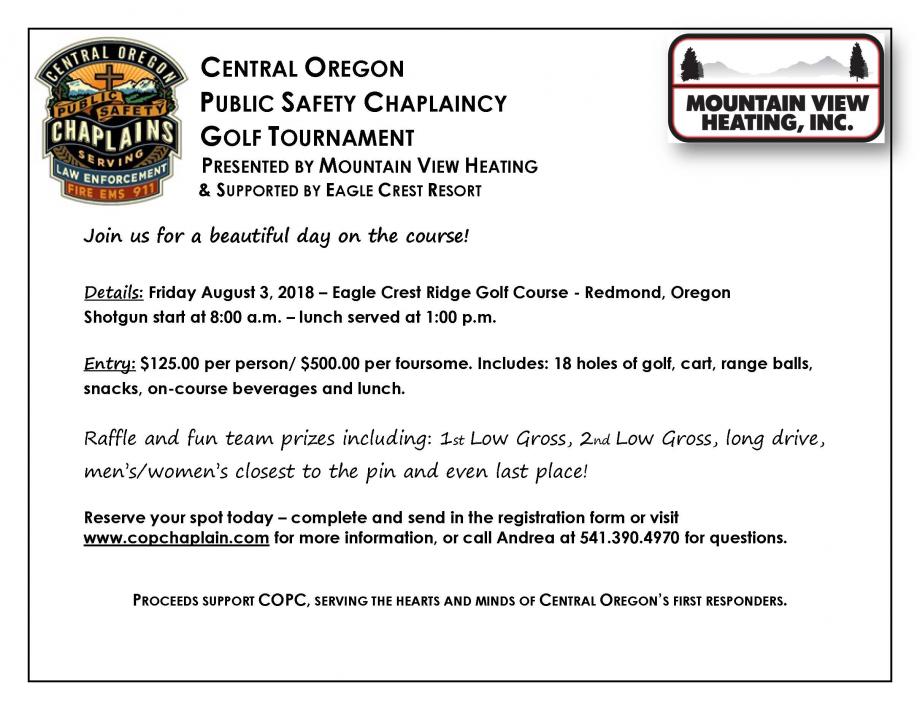 2018 Golf Tournament Sponsors & Teams
2018 COPC Golf Tournament Sponsors & Teams Logos
Click on image to view gallery
Contact Us
Central Oregon Public Safety Chaplaincy
PO Box 1898
Redmond, OR 97756